Paul's new BBC documentary is Frank Wild: Antarctica's Forgotten Hero.
This surprising, inspiring and beautiful tale of an unsung and true polar hero is on BBC ONE and BBC TWO.
Paul travelled to Africa, the Falkland Islands, South Georgia and Antarctica to bring this amazing tale to life. 
Paul is Vice-President of the Royal Geographical Society and has been working in Antarctica and the Arctic for the past twenty years. He has been awarded HM The Queen's Polar Medal and the US Polar Medal.
As a world renowed polar expert and explorer, Paul reports that it was an honour and great fun to present this documentary about a real polar hero - Frank Wild!
Frank Wild: Forgotten Hero
Frank Wild, who hailed from the small village of Skelton, near Whitby, was the most decorated Polar explorer of the great heroic age and second in command to Ernest Shackleton on the ill-fated Endurance expedition to the cross Antarctica via South Pole.
In this documentary, presenter Paul Rose, himself a Polar explorer, joins a new expedition, to bury Wild's newly rediscovered ashes next to his beloved leader Sir Ernest Shackleton on the remote island of South Georgia in Antarctica.
Wild's ashes were only rediscovered in 2011 – more than 70 years after his funeral - in an underground chamber in a cemetery in Johannesburg.
Frank Wild was a key player in five expeditions to the Antarctic with Captain Robert Scott, Douglas Mawson and Sir Ernest Shackleton, but while they became household names, Frank's exploits were forgotten.
His later life was blighted by bad press and bad luck, thousands of miles away from the ice in the heat of South Africa.
Frank was with Shackleton when he got within 97 miles of the South Pole in 1909.
He was also his second in command during the epic struggle of the Endurance expedition, when for more than a year, 28 men battled for their lives after the ship became stuck in the ice.
Frank played a key role in keeping the crew alive after they were marooned on a desolate island for more than four months, surviving on a diet of raw penguin, seals and seaweed.
Presenter, and polar explorer Paul Rose said: "At these key moments of Polar history, Frank was in the thick of it. During these intense periods of hardship he showed incredible courage and resourcefulness.
"He was a true great. He stood shoulder to shoulder with Shackleton. They made the perfect team. With Shackleton's great leadership skills, and Frank's cool head and experience, they were able to handle almost anything that the Antarctic could throw at them."
Frank's Polar career came to an end in 1922 and he tried to make his fortune in South Africa but ended up working in a bar in a dusty backwater.
He died in 1939, and plans were made to send his ashes to South Georgia to bury him next to Shackleton.
With the start of the Second World War, the plans were shelved, and as the years became decades, Frank's ashes were lost.
That is until Angie Butler, author of The Quest for Frank Wild spent seven years trying to get to the bottom of the Frank Wild story and eventually found his ashes in a Johannesburg cemetery.
Angie Butler said: "When I started researching Frank Wild, what started as an interest became an obsession. I was driven by a belief he needed me to tell his story.
"Little did I know it would uncover one of the great Polar mysteries of recent times and add a new page to the history books of Polar exploration."
Paul Rose said: "This was a key moment. The discovery of Frank's ashes meant he could be returned to the icy land that he loved so much. "
Angie Butler added: "For the first time I can let Frank Wild go. He is now where he always wanted to be – alongside his comrade Sir Ernest Shackleton – their graves facing South towards the Great Ice Barrier."
"Frank Wild is no more unsung and forgotten – the great Polar explorer will be remembered up there with the greats such as Shackleton, Scott and Amundsen. I am proud I played a part in that."
Image courtesy of the family of Frank Wild.
Fact File: Frank Wild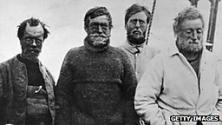 1873: John Robert Francis Wild was born in Skelton-in-Cleveland, North Yorkshire, the eldest of 13 children
1901-4: Wild was part of Robert Scott's Discovery Expedition to Antarctica, as was Shackleton
1907-9: Nimrod Expedition with Shackleton comes within 100 miles of South Pole - a record at its time
1911: Aurora expedition to Antarctica
1914-16: Second-in-command on Shackleton's Imperial Trans-Antarctic Expedition, stranded for four months on Elephant Island
1916: Returns to UK and volunteers for duty in World War I, serving in Royal Navy
1921-22: Takes leadership of the Shackleton-Rowett Expedition after Shackleton dies of a heart attack in South Georgia
19 August 1939: Death of Frank Wild in South Africa
Source: BBC Magazine
BBC News - Could Frank Wild have saved captain Scott's life?
BBC Radio 4 - Frank Wild's Last Journey
Frank Wild - Skelton's Antarctic Hero
Frank Wild - Angie Butler book