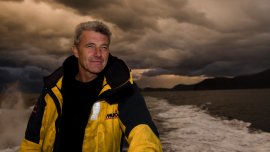 Paul is Vice President of the Royal Geographical Society and Chair of the Expeditions and Fieldwork Division.
He is an expert polar, exploration and field science consultant.
Paul's television presenting credits include;  Britain's Secret Seas, Oceans, Voyages of Discovery, Take One Museum, Meltdown, Wind and Scrapheap Challenge.
He recently presented the BBC Human Planet Proms at the Royal Albert Hall.
Guest appearances include BBC's The One Show, Child of Our Time, Breathing Places, UKTV Market Kitchen and Blue Peter.
He reports for BBC News and makes live appearances on BBC Breakfast, BBC 24 News, Sky News and local TV News. 
Paul's radio broadcasting work includes; BBC National and Local Radio including World Service, Dermot O'Leary, Steve Wright, Midweek, You and Yours, Simon Mayo, Rock FM and US National Radio.