Britain's Secret Seas presenter and expedition leader Paul Rose is interviewed by BSAC
 BSAC diver Paul Rose still vividly remembers his first ever UK dive at the age of 18. "It was off Chesil beach and I can still recall that first moment underwater when I felt free…I was a diver. I will never forget that feeling."
Diving has been Paul's life and his career. From starting as a BSAC club diver, over the past 40 years he has gone on to forge a highly successful career in commercial diving, scientific research, expedition leading and documentary-making.
As a seasoned UK diver, Paul is incredibly proud of his new BBC2 series Britain's Secret Seas and is hoping that it will bring the excitement of UK diving to a whole new audience.
"I keep imagining all sorts of viewers sitting on their sofa and getting drawn into this whole new world – a 14-year-old boy telling his dad they've got to try it, families thinking perhaps they could learn to snorkel, holiday divers realising they can dive in the UK too, someone who had never really thought about diving, realising maybe they can….I really believe Britain has some of the best diving in the world and I want more people to be able to get in and enjoy it!"
Britain's Secret Seas runs from Sunday, 8th May (BBC2, 8pm) and is a stunning four-part series that charts the best in British diving – from the majestic basking sharks off Cornwall and the amazing fluorescent sea creatures at St Abbs, to the Farne Islands seals and the mighty wrecks off the south coast.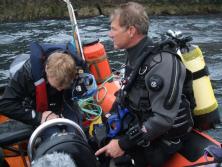 The series is a real labour of love for Paul and it took him over a year to get the idea commissioned. He had been working on his BBC's Oceans series – the warm water precursor to Britain's Secret Seas – but knew there was a series on the UK to be made.
It was eventually a survey by Natural England, which revealed that while the British people have a real affinity with our coastline, the majority had little knowledge of what was actually under the water, that clinched the deal.  "For me this was the opportunity to do something that hadn't been done before and a chance to show people just what we have around the UK if you break the surface."
BSAC interview;
1.This June BSAC is launching its new member recruitment campaign, Come Dive with Me. Its aim is to encourage existing BSAC divers to introduce a non diver to the club. Why would you recommend learning to dive with a BSAC club?
High quality instruction in an easily accessible style. 
2.What is so magical about UK diving?
We can dive here 365 days of the year in a fabulous range of diving activities. 
3.What inspired you at 11 to want to learn to dive?
I grew up in Elm Park, Essex and was generally hopeless at school. I remember the early 1960s when my life's heroes were in their prime; Hans Haas was using military diving gear to film his fabulous shark documentaries. Jacques Cousteau had co-invented SCUBA diving, written the Silent World and was exploring the world's seas on the ultimate diving expedition on Calypso.

And my big hero at the time, Mike Nelson, was up to his neck in Sea Hunt adventures, beautiful women were hiring Mike for diving lessons and at the end of each programme I felt he was talking directly to me with his words on diving safety.

I had just failed my Eleven Plus, hated school, loved the sea and knew nothing. Except that I wanted to be a diver.

I can still feel that first dive in 1969; Sideways rain/sleet on Chesil Beach, Portland. Pulling on my home made wet suit (black with yellow tape of course!). Carrying the boat, the outboard engine, fuel and all the gear across the stones, heading out a little way and then – rolling into the sea. You know I really can still feel that moment. It was clear water, I could see the bottom which was about 10 meters, the cool sea rushing into my wetsuit, the fabulous sense of vitality. 
4.What has been your biggest diving challenge?
My wife, Sheila, was a very keen, good diver and my dive buddy for over 20 years. When she was in the last stages of terminal cancer we went to the Canary Islands in the hope that she might be able to make a dive or a snorkel. But she didn't have the strength and encouraged me to still have a dive. That was the most challenging and lonely dive of my life.
5.You credit BSAC for getting you started in diving. What is so unique about diving with BSAC?
I feel the club atmosphere makes learning to dive accessible and fun. I particularly like the way a family can find a club close to home and then learn to dive together. 
6.What do you hope Britain's Secret Seas will achieve?
Encourage non-divers to have a go! And to encourage those who only dive overseas to re-discover the joys of British diving.  When I first developed the idea of Britain's Secret Seas I kept thinking of how I wanted to see families making easy snorkelling trips around our coastline, or enjoying a favourite tide pool and then exploring it once the tide comes in, or even just floating a hundred metres offshore in Cornwall experiencing great basking sharks swimming towards them - surely an ultimate family day at the seaside!
7.We all remember a teacher who inspired us as a child. Who has had the greatest impact on you as a diver?
My son, Scott. I learned to dive from great instructors and I've dived with some of the world's best, but I remember when Scott was 6 years old I was teaching the US Navy diving programme and I got Scott started diving then. He quickly went from diving in the pool using a pony tank to the open water. And as I watched him take to it so naturally it helped me reflect on the shear joy of being a diver.    
8.You are a passionate environmental campaigner. What can UK divers do to help protect and preserve our marine enviroment for future generations to enjoy?
We must set a good example to the next generations by continuing to be active divers and therefore being aware of marine issues. Our opinions, good example setting and environmental leadership are far more effective if we are report from the 'front line' of the sea by being in it regularly.

I encourage us all to keep abreast of and contribute to current marine environmental issues such as the Marine Protected Areas.

It is important that we all become 'citizen scientists' and the finest way of doing that is to join Earthwatch. And I encourage us all to support MCS, the Wildlife Trusts and all of our hard working organisations that bring understanding and protection to our seas. 
9.What has diving meant personally to you?
 Diving defines me. The most important thing I have ever done was that first dive at Chesil Beach and I attribute any success I have had in life to my becoming a diver as it gave me an essential focus at an important time as a young man. And I still count on that today.
9.Do you have a diving secret of your own you would like to share?
Just enjoy 'being on that dive'. Enjoy that wonderful sense of being underwater. There is no need to feel that you always have to 'achieve' something on every dive. Plus; It's better to be up here wishing you were down there, rather than the other way around. 
11. Describe what diving means to you in three words:
Peace. Discovery. Plentitude.
Favourite dives
Paul is well-placed to take viewers on this journey beneath the surface – over his 40-year diving career he has dived all over the world, from tropical climes to the Antarctic. But when asked, Paul doesn't hesitate to list his three favourite all-time dives…and all are in the UK.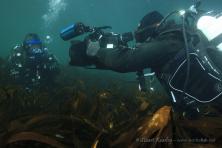 "I make a lot of technical dives - including caves and under the polar ice but my three favourite dives are all in the UK. My top dive ever is Chesil beach – my first dive and one I will never forget. Then there is Cornwall and St Abbs…the dives I remember most are the easy accessible dives that the family can do but are absolutely fantastic!"
From making his own wetsuits to sharing stories with other divers in the pub after training, Paul has fond memories of his time learning to dive with BSAC.
"I owe BSAC and the club divers who got me in the water – everything I have done since has spiralled out of that first dive with Ilford at Chesil beach."
To any non diver considering taking up scuba in the UK, Paul's advice is simple - just give it a go!
"We've all been on the beach and looked out to sea, or looked in the tide pools and seen the life…well there is so much more out there that is exciting and surprising and British diving is more accessible than you may think. It is easy and safe to learn to dive and we live on an island that has some of the best diving on the planet!"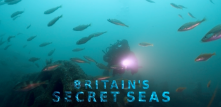 As an advocate for club diving, Paul believes that it is the best way to get the most out of diving in the UK. 
"If you want to learn to dive or if you have dived overseas and now want to try British – then get yourself along to your local BSAC club. They'll get you started and give you all the training and support you need as well as that invaluable experience and local knowledge than means you will experience UK diving as it is meant to be – accessible, exciting, great fun – and keep you going back for more!"