Paul sails with Team Pindar on the Artemis Challenge
Earthwatch ambassador Paul Rose sails to second place with Team Pindar
Earthwatch ambassador Paul Rose was among the Team Pindar crew finishing second in the Artemis Challenge at Cowes Week on 5 August.
Paul, an avid explorer and BBC television presenter, said: "I've been sailing all my life but it's not every day you get to be out on the water on an Open 60 and with some of the best sailors in the world. It's been a tremendous event and a great opportunity to raise awareness for Earthwatch and its Oceans Appeal."
The Team Pindar skipper was former ISAF World Sailor of the Year and TEAMORIGIN Team Director, Mike Sanderson. Light winds forced organisers to modify the normal 'round-the-island' course, to a shortened 35-mile route through the Forts and around Nab Tower off the Isle of Wight. Eight miles from the official line, as the wind dropped further, the race was called to an early finish, sealing victory for Frenchman Seb Josse and his crew.
Now in its third year, this year's Artemis Challenge attracted a total of eight Open 60s, many of which had not competed since the end of the non-stop solo round the world yacht race, the Vendée Globe, earlier this year.
Each yacht played host to a celebrity sailor which included names from the world of entertainment and sport: Zara Phillips, Bryan Adams and Rugby World Cup winners Will Greenwood and Mike Tindall.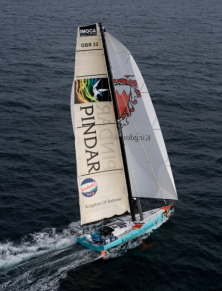 Team Pindar Open 60
Mike Sanderson said: "Obviously it was disappointing not to have more breeze, but we had a good time and definitely made the most of the day. Considering how well the boat has been performing in the strong winds over the last few days, I was really encouraged to see how well she handled the light breeze too."